This is really funny - I've just stumbled upon this photoshopped image of a United Russia campaign ad of the "Putin's Plan" variety - at Discovery Institute's Real Russia Project (aka Russia Blog):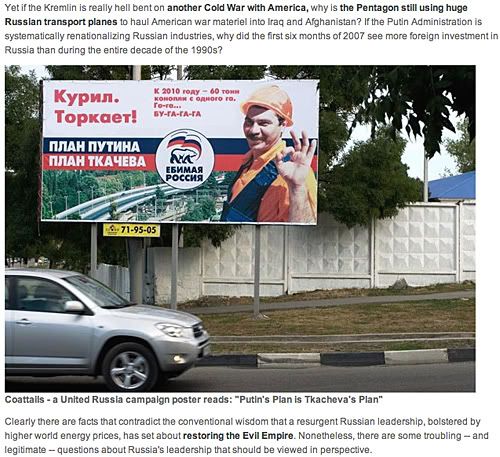 Here's a quick translation for Charles Ganske, the man who mistook this for the real thing:


I smoked it.
It kicks ass!

Putin's Plan.
Tkachev's Plan.

By 2010 - 60 tons of weed from 1 ha.
Ha-ha...
BUA-HA-HA-HA!

FUCKED RUSSIA
'Plan' is one of the words for pot in Russian slang (more -
here
).
The last line doesn't translate too smoothly - it should be
Yedinaya Rossiya
(United Russia) - but it's
Yebimaya

Rossiya
instead...
Anyway, great job, Charles! Учи олбанский!!! :)