Yulia Tymoshenko is the acting prime minister now (until the parliament votes to approve her)!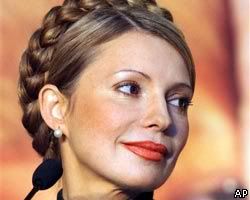 Yushchenko had signed this appointment before leaving for Moscow, and his press service posted
an announcement
on Yushchenko's
website
about an hour ago.
The timing is perfect: Yushchenko is meeting with Putin right at this moment - and Putin has no other choice but to swallow the news. Hopefully. Yushchenko is actually doing Putin a favor, for all I know, helping him to avoid making a fool of himself again: Yushchenko is the President of an independent country, and to comment negatively on his totally legitimate decision sitting across the table from him wouldn't be too tactful of Putin.
Here's a passage from a now outdated
AP story
on the dilemma that Yushchenko has just solved so beautifully:
He said Monday more consultations were needed before he could nominate a prime minister. His most visible ally, Yuliya Tymoshenko, publicly says she expects the job, but she is widely disliked by the Kremlin and Yushchenko's hesitation to name his choice could be aimed at avoiding a provocative decision just before his Moscow trip.
***
According to Yushchenko's press service, Yushchenko today has also "abolished the structure of the Presidential Administration of Ukraine the way it is now and ordered to create the Secretariat of the President of Ukraine. Oleksandr Zinchenko has been appointed the State Secretary of the President of Ukraine.
The President of Ukraine has appointed Petro Poroshenko as the Secretary of the National Security Council."