(All of the links below are to sites in Russian or Ukrainian.)
I could've lived happily without it, just a few hundred meters away from the center of the Orange Revolution, but somehow I decided to see what Donetsk papers are saying about it all.
I haven't found Web editions of any print publications yet, but there's an online one,
Novosti.dn.ua
, "a Donbass Internet newspaper." The site's dominant color is orange, the type is dark-blue; there's a survey closer to the bottom of the page: Should we change the site's colors? - and of the 2,136 people who responded, 1,998 (93%) thought it should be left as it was.
Nevertheless, the site contains "
recommendations
on how to resist the orange ones" as well as a link to something called "
New Ukraine
, an online journal about the autonomy of Donetsk region."
I skimmed through the "recommendations" - sent in by the readers, some of whom are based as far from Donetsk as it gets, in
Munich and Oxford
- and found a link to two
leaflets
that everyone's welcome to print out and paste around their neighborhoods. Here's one of them (the caption reads, "'Our Ukraine' spreads its wings"):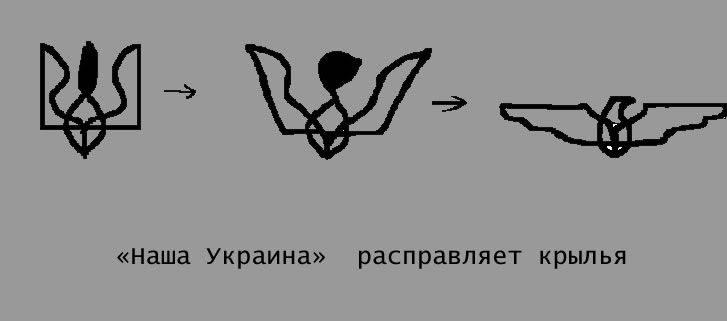 The
trident
these people are turning into a Nazi symbol is actually Ukraine's official coat of arms...
One of the articles posted on this site Dec. 8 is about the
silence
of the Yanukovych's campaign headquarters: Kyiv supporters of Yanukovych "cannot even get the most elementary campaign attributes, scarves and ribbons, at [the former movie theater] Zoryaniy, so how can we speak about more serious work?"
And
Yanukovych's campaign site
hadn't been updated in a long time, since before Serhiy Tyhypko quit as head of the campaign, and the "voters of Ukraine" are still congratulating Yanukovych on his election as president of Ukraine...
Anyway, the more I look at it, the more convinced I become that it's all some kind of a joke - all these separatist sites accusing Yushchenko of being a fascist, and this Yanukovych persona, and the thing called
Donbass Voters' Committee
, one of whose
surveys
says 224 of the 528 respondents think Donbass should be part of the Russian Federation and 104 want Donbass to be an independent state...
It can't be true.
But it's not funny, either. It's sickeningly dumb. It's sickening.