Marta is okay, thank God. We need to do exercises with her, as well as the massage, and she'll be totally fine soon. No hip dysplasia (this is what we feared - or were told to fear). Why is it that every second child here seems to have dysplasia, while if you google it in English, it seems like a canine condition, not human?
***
And here's another "disappeared" post from yesterday...
*********
When I order a cab to take Marta to the clinic, I ask them to send me a non-smoking car. Today, the driver had this note on his glove compartment: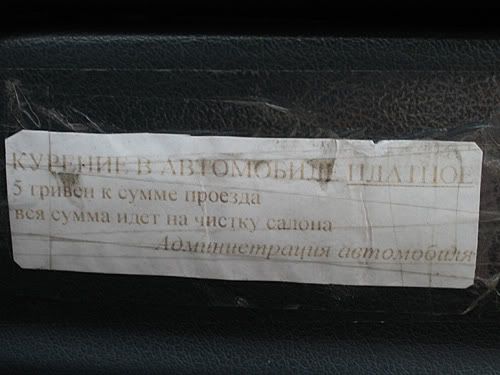 It says that you'll be charged 5 hryvnias ($1) extra for smoking in this car, and that this money will be spent on getting rid of the smell. Signed: the car's administration.
It's not as good in the translation, though: there is something so Odessa about it, something so in your face and yet so subtle.
I asked the driver if people did pay the smoking charge, and he replied, "Oh, yes!" and added that it was wrong to poison non-smoking drivers. A rare attitude here.