I've posted
17 pictures
from our Feb. 17 visit to the Institute of Traumatology and Orthopaedy.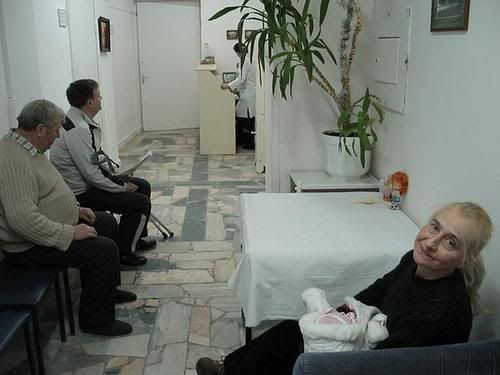 The institute is a horrible place.
Although the doctors we dealt with were very nice and, I guess, trustworthy, the rumor is the Institute's staff diagnose healthy babies with dysplasia and prescribe things like Pavlik Harness just to earn some money (commission from the harness producers). This, perhaps, explains why every second child in this city seems to have hip dysplasia.
The area where they have an ultrasound machine is being renovated, so it doesn't smell nice. The actual room is tiny, and a boy of about 18 had to take off his pants and lie on the bench to be examined, while mama, Marta and I - and a few other people - were still in the room. Very embarrassing and definitely not too safe for an infant, especially in winter, during the flu season. As we were leaving, an elderly man on a huge bed on wheels was waiting right in the hallway, surrounded by his relatives, for his turn to have an ultrasound exam.
While we were in the vestibule, two swollen, alcoholic-looking bums strolled by - I've no idea what they were doing in there and why no one prevented them from entering.
The vestibule is so cold that the women working there - buffet and wardrobe - were dressed as if they were outdoors.
A man dressed as a surgeon - in blue outfit - was buying a snack from this very buffet.
Oh, and a little room on the second floor in which, I guess, nurses change and have their lunch... Our doctor took us there after the ultrasound, to give us further recommendations - two women were clearing the table -
salo
and boiled eggs with mayo on separate plates. At some point, the doctor almost got sick because he could barely stand the smell of
krovyanka
, sausage made of blood, being fried on an electric stove next door. I had to dress Marta on the same table they had just had their lunch on. (Don't have any pictures from there - I was a bit dumbfounded by the look of it all.)
I hope we won't have to go to that place again.