I'm in Kyiv. Yesterday was lovely and warm, but today it's cold and rainy, and I have nothing to wear in this weather...
I spent most of the day yesterday chatting with mama and hanging out with friends. I talked so much that I had a pretty bad sore throat by the end of the day...
Also, for an hour or so, Mishah and I dealt with a certain state entity - but I hope to write a lot more about it in a few months.
Kyiv is totally beautiful, the chestnuts and the lilac and all - I hope the Eurovision crowd is having fun. To fully enjoy the city, though, it's important to get your ass uphill and away from the Khreshchatyk mess - this is why I didn't get to have a good look at the people yesterday. I've seen a few Pora tents on Khreshchatyk, but the scene is a lot more remindful of a routine Kyiv weekend than of the Orange Revolution times.
Funny but I heard a U2 recording played real loud yesterday - at the exact same spot on Khreshchatyk where I heard it back in November. It was 'Faith (In the Name of Love)' then - and it was 'The Real Thing' this time... I still wish Bono would come here some time...
Yanukovych supporters were walking around with their flags but I didn't bother to come closer to them because who needs all their bitchy energy thrown at you on such a wonderful spring day. Later, I watched them on the evening news - and again I was happy I hadn't been in the mood for taking pictures.
I saw this t-shirt on Khreshchatyk yesterday: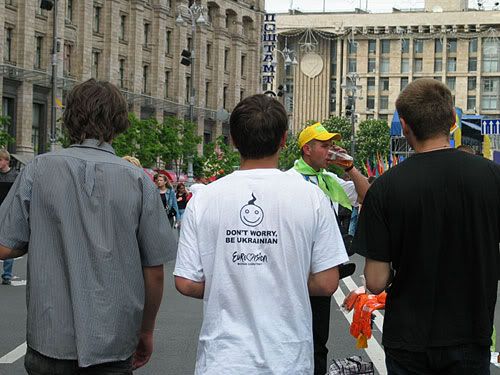 I watched a little bit of the Eurovision semi-final on the TV at night, realized that a really cool Moldovan band,
Zdob Si Zdub
, is here somehow, decided to vote for them but fell asleep before the show was over. This morning, I was happy to learn that they've made it into the final!