According to
Jennifer Leonard
, a black-and-white copy of
this St. Pete photo
should be somewhere in the
Massive Change
exhibition's Movement Economies room, at the
Art Gallery of Ontario
, in Toronto, Canada.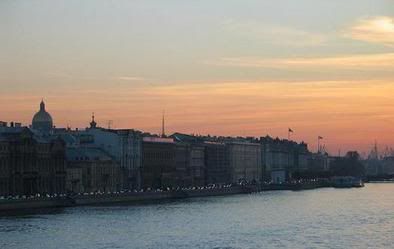 I took this evening rush hour photo on
Oct. 18
, 2004, from a bridge across the Neva (God, I don't remember the names of the bridges anymore... Feels like I've never even been to St. Pete... The bridge leading to the mosque on Petrogradka - which one is that?.. Oh boy...)
If any of you reading this happen to visit the Massive Change exhibition in Toronto (on view until May 29) - could you please check if that photo of mine is indeed there?
It may be very difficult to locate it - the exhibition seems huge and overwhelming and cool, and I wish I could see it myself, even if my photo's not there... But I cannot, and I do need your help - and I'd be very, very grateful if someone did let me know!.. And if my photo's there, I'd be so proud and happy!
Here's a
photo album
from the Toronto Massive Change exhibition: one picture (#4) seems to be of part of the wall of traffic images from all over the world, where my photo may be hiding - I can see an image from Moscow there, by Inna or Irina-something... This photo album belongs to
Singer.to ~ Refreshing the daily grind
, a very nice blog.
Jennifer Leonard is the
co-author
of a book on "the future of global design" -
Massive Change
(Phaidon Press, 2004). She spent six months of 80-hour work weeks doing all the research, editorial development, interviews with all the experts - and I ran into the book in one of the English-language bookstores here in Moscow, totally incidentally, a week or so after receiving an email from Jennifer. I bought the book, and both Mishah and I are enjoying it a lot. Jennifer will be a guest speaker at Berlin's annual design show,
DesignMAI
, in early May this year.