It's been four years since they
shut down
Chernobyl Power Plant on Dec. 15, 2000.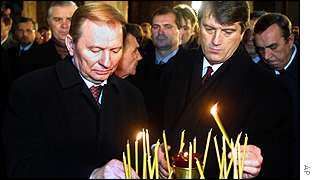 Here's more on what preceded
the plant's shutdown
, from the
Organisation for Economic Co-operation and Development (OECD)
Nuclear Energy Agency
's website:
After the accident in reactor 4 and the fire in reactor 2, western countries attempted to persuade the Ukrainian authorities to definitively close reactor number 3. This was a priority for many countries in the bilateral exchanges and agreements with Ukraine. This western pressure crystallised when the Ukrainian parliament decided, in October 1993, to cancel a 1990s decision which recommended to immediate stop of all RBMK reactor construction, and the closure of the Chernobyl site. Later the European Union and the Ukraine concluded, on 20 December 1995, a memorandum of understanding for the closure of Chernobyl plant. In exchange for the definitive closure of all Chernobyl plants, the European Union (in the framework of TACIS programme) and western countries agreed to provide financial assistance to the Ukraine for the provision of electricity, and to solve social problems resulting from the closure of the site. Financial projects were estimated, in 1995, to be 2.3 billion dollars. A part of these funds has been committed to modifications of reactor number 3, creation of building for used fuel, and workshops for liquid and solid waste treatments.
Channel 5's anniversary piece today included footage from last month's debates, in which Yanukovych blamed Yushchenko for following orders from foreigners, who then failed to provide the funds they had promised.
The plant's current director was quoted in the same piece, saying that there was still a substantial risk of the Sarcophagus shelter's collapse, and this is why it was being "stabilized" now. The new shelter project would not be approved until mid-2005.
Nataliya Shumkova, director of the Department for Atomic Industry of the Ukrainian Ministry for Fuel and Energy,
told Itar-Tass today
that "Ukraine's share in the
Chernobyl Shelter Fund
would stay at the level of six percent."
Early this year, Ukraine asked for U.S. support as concerns an increase in the payments to the fund. According to early calculations, the cost of the project has grown by 300 million dollars, to 1.059 billion dollars. So far, Ukraine's share stands at 50 million dollars.
(
Chernobyl.Info
seems like a good resource on the plant's past and present.)