Yesterday morning, the New York Times had a story on how the French continue to be
tough on Muslim schoolgirls
. "Perfect," I said to myself. "I'll start the day with reading about someone other than Russians or Ukrainians acting absurdly and counterproductively."
I read the caption to the Reuters photo of a Sinead O'Connor look-alike: "Cennet Doganay, 15, a Muslim who showed up for school in Strasbourg wearing a large beret, was barred from class by an administrator who called it a religious symbol, so she shaved her head and was let back in."
Then I made it through the first few paragraphs, smirking:
PARIS, Oct. 21 - To enforce its new law banning religious symbols from public schools, the Ministry of National Education has decided to get tough.

This week it held formal disciplinary hearings and began expelling students who violated the law. The goal was to get rid of those defined as hopeless cases before the 10-day All Saints school vacation that ends with a national holiday honoring all of Catholicism's saints.

The French government sees no contradiction or irony here.
And then I got hit below the belt, sort of: I suddenly realized that an advertisement I hadn't been looking at, right there, in the middle of this wonderful story, was about Putin and Russia. "Russia on Trial," it read, white letters inside a black rectangle, stamped over Putin's face, leaving only his ear and his ambiguous, KGB-spy eyes visible. "Suppression of free media. Human rights abuses. Assault on democracy. NEWS COVERAGE. TAKE ACTION."
"Oh boy,
that's
some irony," I thought and clicked on the ad.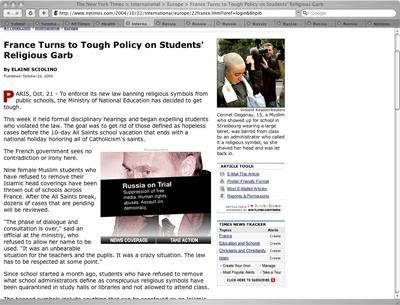 The insides of
Russia on Trial
were as much about democracy in Russia as they were about oil:
Tell President Bush to say "NO!" to a Kremlin-controlled oil supply. Vladimir Putin is attempting to destroy YUKOS Oil and seize its assets. The Kremlin hierarchy, stacked with former KGB officers, is moving to control Russia's oil industry and gain access to a powerful global tool.
Russia on Trial, as well as another Russia-related site,
Future of Russia
, are sponsored by the
National Center for Public Policy Research
, "a communications and research foundation dedicated to providing free market solutions to today's public policy problems." Established in 1982 "to provide the conservative movement with a versatile and energetic organization capable of responding quickly and decisively to fast-breaking issues," the organization seems stuck in the Cold War mentality, unable to get over the excitement that the Evil Empire is back at last. Much of the content they provide is
a bit too hysterical
, and banners like the one below only reinforce the impression:
According to Russia on Trial, the rationale for caring about the Russian democracy is this:
- Like it or not, the world's economy runs on oil - and Russia is the world's second largest producer. The Kremlin hierarchy sees an opportunity to seize YUKOS, control Russia's oil industry and gain access to a powerful global tool.

- One need only to think back to the days of the Cold War when nations that espoused freedom and democracy lived on the precipice of global conflict. The US and former Soviet Union committed billions of dollars to build and maintain national defenses.

- The largest and most prosperous nations of the world need to encourage Russia to consistently honor contracts, protect property rights, shield investments from arbitrary interference, and recognize legal deals.
This last item, about recognizing legal deals,
refers
to Mikhail Khodorkovsky, among other things:
Putin's takeover of YUKOS directly interferes with negotiations the private company was pursuing with the U.S. Mikhail Khodorkovsky had already met with Vice President Cheney, Energy Secretary Abraham and other U. S. officials to discuss oil exports to the U.S. The first shipment arrived in Texas in 2003, offering hope that the U. S. would at last have a major alternative source of oil imports. That was before Mr. Khodorokovsky's imprisonment.
The oil deal that Putin disrupted a year ago was supposed to be, in fact, between Khodorkovsky and ExxonMobil. Here's what the Newsweek's Michael Meyer
wrote
on Sept. 29, 2003, roughly a month before Khodorkovsky's arrest on charges of fraud and tax evasion:
Oil and the Oligarchs

Yukos, Russia's largest oil company, may soon gain some American friends. U.S. oil majors ExxonMobil and ChevronTexaco are each bidding for a 25 percent stake in Yukos, at a price approaching $12 billion. But there's more at stake than just money. This could be one of the final rounds of President Vladimir Putin versus the oligarchs.

Certainly, Yukos CEO Mikhail Khodorkovsky stands to make a killing off the deal. But he may have more than money on his mind. Khodorkovsky spent the summer on the defensive after he funded anti-Putin opposition parties in the run-up to December's parliamentary elections. Now a key Yukos associate is in jail, and Khodorkovsky fears he might be next. By selling to the Americans, analysts say, he would protect himself. Putin would hesitate to take on a major U.S. company, and Khodorkovsky could reinvest proceeds from the sale into less vulnerable assets.

He's not alone. Other Russian oligarchs, like Roman Abramovich, are also looking abroad. Abramovich recently bought London's Chelsea football club for $230 million and is in talks to sell off key assets. "The tycoons have come to the end of their life cycle," says Stanislav Belkovsky, a Moscow political analyst. Destroying them would solve many of Putin's political troubles. Yet he recognizes that they are the source of Russia's economic dynamism. That's the reason, perhaps, that Putin has yet to deliver the final blow.
And here're
CNN.com
's Oct. 3, 2003, predictions that never came true:
The Exxon Mobil chief's presence at the forum alongside Russian President Vladimir Putin had fuelled talk the U.S. major would consolidate its world number one status by buying a stake, possibly as much as 50 percent, in the newly born Russian giant.

A London source familiar with the YUKOS-Sibneft deal said: "Exxon Mobil are in the driving seat if they want to be...It's down to whether they have the guts and the brains.''

However, completion of the YUKOS-Sibneft merger, effectively a $15 billion takeover of smaller Sibneft, was seen as the prerequisite to any foreign involvement.

It will simplify talks between the newly-created firm and a potential Western investor, even though minority investors who hold eight percent of Sibneft have yet to be brought into the deal.

The Financial Times also said on Friday that Exxon Mobil was in talks with YUKOS, reviving speculation that has been running for weeks. A trader in Moscow said the market believed a deal was on the cards.

"The market consensus is that talks are under way and this increases the attractiveness of other oil assets as well.''

[...] YUKOS-Sibneft will become a group with oil and gas output on a scale similar to that of French giant and world number four firm Total, and more than that produced by Kuwait.

It is expected to have a market value of about $45 billion, making it by far the largest listed group in Russia and ranking it number seven in the league of the world's top oil firms by market value.

Under terms agreed earlier this year, YUKOS's core shareholders will pay Sibneft's core shareholders, who hold the other 92 percent of the firm, $3 billion plus 26 percent and one share in the new group.
And this is the
Business Week's take
on the situation, from an Oct. 20, 2003, story by Jason Bush (Khodorkovsky was arrested five days later):
[...]Khodorkovsky and ExxonMobil [...] Chairman Lee R. Raymond were rubbing elbows at a panel in Moscow organized by the World Economic Forum. The Financial times reported that Exxon was offering Yukos $25 billion for a 25% stake -- a deal rumored since August. But neither side will acknowledge that a deal is in the works. ChevronTexaco Corp. [...] is nosing around, too.

And what about Russian President Vladimir V. Putin, who supposedly wants Khodorkovsky taken down a few pegs? He has publicly endorsed the idea of big foreign investment, leaving open for now the possibility of an ExxonMobil-Yukos deal -- a deal that would net Khodorkovsky, already Russia's richest man, several billions. In a recent interview with The New York Times, Putin signalled that he would welcome a major investment in Yukos by Exxon.

[...] It's a riddle wrapped in a mystery inside an enigma, to borrow from Winston Churchill's description of Russia. How the saga is resolved could determine whether ExxonMobil makes one of the biggest oil deals of the year, whether Moscow really wants to open the country up further to foreign investment, and whether Putin and the Kremlin will end their war on Russia's most powerful oligarch.

In this drama, ExxonMobil's motivations are the clearest. The newly completed merger of Yukos and its local rival Sibneft has created the world's fourth-largest nonstate-owned oil company, with a wealth of reserves and output that is rising at a rate of 20% a year. Its exploration and production costs, at $1.47 per barrel, are among the industry's lowest. All of these are attractions in the eyes of the world's largest integrated oil company. Despite its extensive acreage, ExxonMobil has seen production levels fall off in the past year. The U.S. company would also stake a big claim on one of the world's fastest-growing oil patches, and would be keeping pace with BP PLC [...], which in February inked a $9.8 billion deal with Russia's TNK. As Paul Collison, a Moscow-based oil analyst at Brunswick UBS puts it: "Russia's risk can be mitigated -- and it has the reserves that these companies need." Just how eager is ExxonMobil to boost its profile in Russia? According to Collison, who recently met with ExxonMobil executives, the American oil major is willing to settle for a minority stake in any Russian venture -- even though it usually demands control.

But whether ExxonMobil gets a deal depends on the Russians. Khodorkovsky stands to profit handsomely from any sale. When the former banker acquired his 36% stake in Yukos at a bargain price during Russia's privatization program in the mid-'90s, most people assumed he would cash out as soon as a rich opportunity presented itself. The surprise was that he actually had a head for the oil business. He seemed to relish the job of turning Yukos into a world-class oil company. And he has succeeded: Yukos is on track to log a $4.3 billion profit on sales of $15 billion this year. A runup in oil prices, and steady improvements in Russia's investment climate, have boosted Yukos' share price by 68% since December, to almost $16. This could be the moment to sell. "If someone comes along and offers you a lot of money for half your company, and if you can make more money working together, then why wouldn't you?" asks Stephen O'Sullivan, co-head of research at Moscow investment bank United Financial Group. Khodorkovsky would not comment for this story.
According to the
Center for Responsive Politics
, ExxonMobil has contributed $549,017 to federal candidates and parties in
the 2004 election cycle
(11% to Democrats and 88% to Republicans) and ranks third among the oil and gas industry contributors. In the
2000 election cycle
, ExxonMobil made the second-largest contribution: $1,378,400; 10% to Democrats and 89% to Republicans. (The winner that time was Enron, of course, 70 percent of whose $2,478,923 contribution went to Republicans.)
According to
Disinfopedia.org
, the National Center for Public Policy Research has also received funding from ExxonMobil: the total of $100,000 in 2002 and 2003. (Disinfopedia.org provides both the breakdown of these donations and the links to the ExxonMobil reports in .pdf:
2002
- $30,000 for "educational activities" and $15,000 for general support;
2003
- $25,000 for general support and $30,000 for "global climate change/EnviroTruth website").
EnviroTruth.org
site is likely to need a serious revamp soon. One of its goals was to "
encourage Russia to stay out of Kyoto
" Protocol by having visitors to the site send letters to Putin (295 have been sent since Dec. 1, 2003). Ironically, the Russian Duma
ratified
Kyoto Protocol yesterday, Oct. 22, 2004, just hours after I ran into the National Center's anti-Putin ad.
ExxonMobil,
according to the Guardian
, "has been increasing its greenhouse gas emissions after supporting George Bush's refusal to sign the Kyoto treaty." In 2002, the company was also
involved
in a
controversy
over the selection of the head of the UN's Intergovernmental Panel on Climate Change.
Khodorkovsky and Kyoto give the National Center and its affiliates enough reason to be furious, radical and unrelenting in their views on the implications of Putin's economic policies:
The bottom line: If Putin is successful in exerting control over the Russian oil industry, the U.S. economy will be directly dependent on decisions made by the Russian president and Kremlin. President Putin, a former KGB operative who has systematically populated the top tiers of Russian government with anti-western members of Russia's current and former security service, will hold the reins of U.S. oil imports.
But there're more realistic views out there as well. David Ignatius, a columnist for the Washington Post,
thinks
Russia may be becoming more and more like China:
Westerners like to believe that democracy and free markets go hand in hand. That optimism should have been tempered by China, which is becoming a global economic powerhouse even as the Communist Party keeps a lid on political expression. And now there is Putin's Russia, which seems to be following a Chinese path.

What should the West do about Putin's putsch? The right model, many analysts would argue, is U.S. policy toward China. In dealing with Beijing, the United States is clear about its values -- condemning human rights violations and advocating democratic reforms. But at the same time it maintains an economic relationship that, over time, is making China richer and eventually freer. The same process should happen with Russia, and an attempt to isolate and punish Putin would almost certainly backfire.
And it doesn't look like the isolation is about to begin. Both before and after Khodorkovsky's arrest, Western oil companies did make major deals with their Russian counterparts. In August 2003, the U.K. energy group BP PLC
spent $6.15 billion
to acquire a 50% stake in the Russian oil company TNK, and slightly over a month ago, in late September 2004, ConocoPhilips, a U.S. company,
acquired a 7.59% stake
in Lukoil, currently Russia's largest oil company:
Conoco paid $1.98 billion for the stake, making it both the largest single privatization in Russian history and the largest-ever investment by a U.S. company in Russia. It's a sign that, despite Russia's notorious political and legal risks, the world's biggest energy players are eager to get a piece of Russia's abundant oil reserves.

[...]"I think it's going to be very good for both companies," says Ron Smith, oil and gas analyst at Renaissance Capital, an investment bank in Moscow. "Conoco will get access to reserves -- and oil companies are very desperate to get reserves." Lukoil has proven reserves of 16 billion barrels. Add in probable oil reserves, and the total tops 30 billion barrels.

That means Conoco is paying just $1.63 per proven barrel of oil, which is between a third and a quarter typical replacement costs in the West. And for Lukoil, the partnership will bring much-needed Western management and knowhow.

In addition to the equity investment, Conoco and Lukoil have announced a global partnership. That could come in handy in Iraq, for instance. Lukoil has an existing agreement with the Iraqi government to develop the country's West Qurna field, and Conoco has the links with the U.S. government to help ensure these rights now get recognized.
And
this
is important, too:
Guy de Sellier, a former vice-president of the European Bank for Reconstruction and Development who sits on the board of Norilsk Nickel and dairy company Wimm-Bill-Dann, doesn't see Putin's play for oil-sector control as putting a damper on foreign interest. "Controlling energy doesn't mean controlling everything else," he says.

But the worrying signs don't stop there. Since Putin's reelection in March, hardly anything has been done to push promised liberal economic reforms, such as measures to help small businesses by cutting back on red tape. Such moves are badly needed to diversify and strengthen the Russian economy. "The reforms haven't happened, and there's no evidence they're about to happen," says Chris Weafer, head of research at Russia's Alfa Bank.

To promote liberalizing reforms, Putin would need the support of private business lobbies to push back against the bureaucrats. But following the attack on Yukos, business is cowed and its political influence weakened, argues Carnegie's Aslund. He says Putin is becoming ever more dependent on the security services and their allies at the large state companies and banks.
***
I haven't finished reading the story about Muslim schoolgirls in France. When I
opened
it once again, there was another ad there, linking to the very informative
Khodorkovsky Trial
site (you can even "mark" the first anniversary of his imprisonment "by sending [him] your personal thoughts and reflections").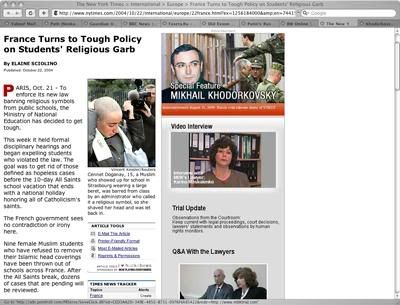 And sometime in the middle of writing this, I strayed off to Gazeta.ru and read
a piece
(in Russian) by one of my favorite Russian jouranlists, Valeriy Panyushkin. Here's a tiny part of it:
"Dirt-poor teachers' rallies take place every year in this country, but this time they were showing this slogan on TV: "Give Putin a salary of 1,800 rubles" [$60 a month]. Have you ever seen a slogan like this? If teachers and doctors protested before, they blamed the government and the State Duma deputies for their troubles. The last name "Putin" was a taboo at such rallies. A now there's the slogan: "Give Putin 1,800 rubles." And what's even more surprising is that they are showing this slogan on NTV, and NTV belongs to Gazprom, and Gazprom belongs to the state."
The title of this piece is The Virus of Rebellion.