It happened again today: I opened
a story about Gorbachev
in the New York Times and saw Putin, then I clicked to get a single-page version and saw Khodorkovsky. I was assuming everyone gets these - but
Servant
writes that he's "seeing ads for Jim Moran, [his] Democratic Congressman here in Alexandria, Virginia. It's as if the NYT moved to Mount Vernon." This is very funny.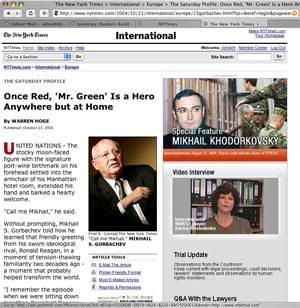 I'm posting these screenshots here because they look a bit like conceptual art to me. Actually, I went looking for other evil Putin/poor Khodorkovsky cocktails: the ones with Gorbachev and a Muslim Sinead look-alike were just too good and I wanted more. Unfortunately, I found none. I had special hopes for the story titled "
Crocodile Husbandry is Really Hard, China Finds
" - but the ad next to the picture of a guy about to lose his hand to a crocodile was about cooperation between Columbia Business School and London Business School.
As for Gorbachev, he's an environmentalist now - the founder of "
Green Cross International
, the Geneva-based organization [...] [whose] focus is on safely eliminating unconventional weapons, stemming climate change, reducing the use of nonrenewable resources and preventing conflicts over fresh water." This seems like a good way to repent for his ugly attempts to conceal the Chernobyl catastrophe back in April 1986.