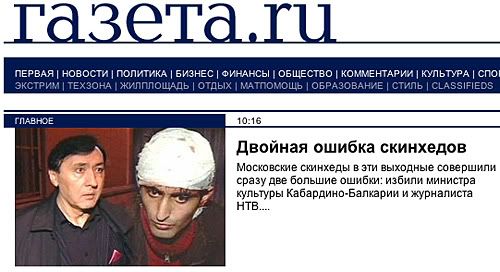 Zaur Tutov, culture minister of Kabardino-Balkaria, was picking up his daughter from a dance class Saturday night - and was severely beaten by Moscow skinheads. Before the press got involved, the law enforcement people weren't too eager to look at the attack as one inspired by nationalism, ethnic hatred, etc. - even though there were several witnesses who heard the attackers yell about 'Russia for Russians' and 'Moscow for the Muscovites.'
Elkhan Mirzoev, an NTV correspondent of Azeri descent, was on a subway train Sunday night when a group of drunk skinheads entered the car at Park Kultury station. One of them sat down next to Mirzoev and began explaining why he - a non-Russian, a Caucasus native, etc. - shouldn't be living in Moscow. Then he poured beer on Mirzoev's head. Mirzoev hit him once and received a severe beating by the whole group in return. He was thrown out of the train at Okhotnyi Ryad station, right underneath Kremlin.
***
Now the general prosecutor's office is involved, but I doubt much can be changed for the better at this point, even if they jail a few worthless, brainless, murderous jerks. There'll always be many more.
I don't even think that subsidizing sports schools, etc., to keep all those hyperactive, poor kids off the streets, would change anything now. Maybe in the long run - but is anyone really bothering about it?
***
I was watching Kusturica's
Life Is A Miracle
the other day: the dreamy guy in the movie - the main character - said there wouldn't be a war in Yugoslavia because the majority were normal people. And suddenly I understood how it works: something terrible is done to a normal person or his/her family member, and the normal person gets mad and takes revenge. Multiply this by a few thousand and you get a minor civil war.
***
I'm still getting over the murder of that 9-year-old Tajik girl that took place in our neighborhood in St. Petersburg in early 2004. I don't think I ever will. I couldn't make myself go outside for something like a week then - because I felt sick at the thought that one of those murderous shitheads would pass me in the street. Or their dumb-cow mothers.
Quite a bunch of foreign students - Asian, African - have been killed or beaten since then in St. Pete and elsewhere in Russia. I never really write anything about it here - but it doesn't mean I do not notice what's going on. It's more like I don't want to touch shit and make the stench even worse. What's the use?