"Yarmoshino, pidrahui-ka!"
Less than a week before the election in Belarus, please meet their "Kivalov/Kidalov pidrahui" persona - Lidiya Yarmoshina, head of the Central Election Committee (via
czalex
, in Russian).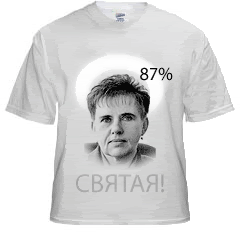 If you're in Belarus, you can buy this t-shirt
here
(in Belarusian).
And if it's too cold to wear it outside (it is), you can buy an extra-large size and wear it over a jacket - "Like a hockey team!"
***
Also, if you're planning to be in Minsk on Sunday and have nowhere to stay, here's an LJ community that may help you find a place to crash:
kvartira19
(in Russian and Belarusian).