Here's a little Photoshop thingy one of my dear Kyiv friends sent me last week: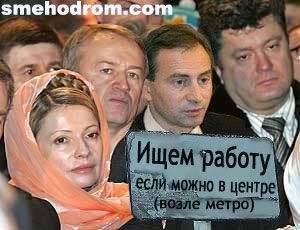 Tymoshenko, Zinchenko, Tomenko, Poroshenko
:
Looking for a job; if possible, in the city center (near a subway stop)
Today, this same dear friend wrote me:
Are you following these stupid events taking place here? I think we're making the whole Europe laugh!
Basically, we Ukrainians are having fun making fun of ourselves and then we worry about being Europe's laughing stock...
(This entry has been partially inspired by Dan McMinn's
The Men-on-the-Street View
.)