Originally, I learned about it from Andrei Kolesnikov's
today's piece
in the Kommersant Daily (in Russian):
He arrived in Bratislava the previous evening. The Slovak Spectator newspaper had this P1 headline on the eve of his visit: "We're on the Map!" The problem was, according to the Slovaks, that they were constantly being confused with the Slovenians. This meeting had to put everything where it belonged.

But it ended sadly. On the day of Mr. Bush's arrival, the USA Today published a map of Europe, on which a fat line outlined the country Mr. Bush was going to to meet with Mr. Putin. Alas, it was Slovenia. A Slovak journalist was walking around the international press center with this map, silently showing it to her colleagues. She couldn't speak. She had tears in her eyes.
Here's the map (
the image
via
This Blog will be Deleted by Tomorrow
):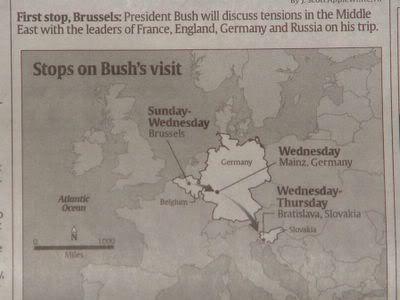 Here're a few bloggers' reations:
-
The Glory of Carniola
:
Bush's Visit to Slovakia Takes a Detour

Folks, is it really so hard? I mean, I have to pause too sometimes and think about which country is Latvia and which one is Lithuania, or which one is Kyrgyzstan and how to spell it. But... if I had to prepare a map for a newspaper, I think I would find the five seconds necessary to just google it and make sure. Doing an image search for "Slovakia map" takes 0.15 seconds and gives you everything you need to know, including the important fact that it's not Slovenia. [...]
-
Registan.net
:
Important Announcement

Please update your European maps. Slovakia has moved. Not too far, just a little down and to the left, but they're sure you'll enjoy the new digs.
-
Bratislava Blogging
:
Slovakia has got a coastline!!
Here's
the reaction
from the
Slovak Spectator
- a follow-up on the
We're on the map!
piece, in a way...
US confusion over Slovakia

One of the leading US dailies, USA Today, published a map supposedly showing President Bush's route on his current tour of Europe, according to the daily SME.

But once again, Slovakia was mistaken for Slovenia.

During the 2000 American election campaign President Bush himself confused the two countries.

USA Today published the map in its edition on Monday, February 21.

It soon sparked an email joke reacting to the error.

President Bush was portrayed at the airport of the Slovenian capital, Ljubljana, wondering: "So, I come to visit them and there's nobody waiting for me?"