BBC's
In Pictures
showcases work of
Simon Roberts
, a British photographer -
Postcards from Russia
:
In August 2004, photographer Simon Roberts embarked on an ambitious twelve-month journey across Russia to document the reality of daily life outside of Moscow, photographing those people for whom the wealth of the capital is nothing more than a fantasy.



Told through personal stories of citizens living in this vast nation, his project aims to illustrate the wider issues affecting modern Russia.

We present a selection of his 'postcards from the field' halfway through his epic journey.
My favorite photo is that of a "
Russian Alcoholic
" - an amazing transformation of a gloomy, hopeless subject into an almost pretty one, and an example of how much can be achieved by switching from "trying to cover your natural and inescapable habitat" mode to the "working in the field" approach.
Photo:

Simon Roberts


Caption:

Kyakhta, Russia-Mongolia Border

A former stage post on the tea route from Shanghai to the Russian cities of Siberia, Kyakhta on the Russian-Mongolian border is now a heavily militarised border post.

Today the tea warehouses and factories have been abandoned and there is virtually no employment.

Husband and father, Sergei Shanzin, aged 24, does have a job but is an alcoholic. He asked that this photograph carry the caption "Russian Alcoholic."
***
The
World Press Photo
2004
award winners
were announced a few days ago.
Even though the
image below
didn't receive the
World Press Photo of the Year 2004
title, I can't stop looking at it...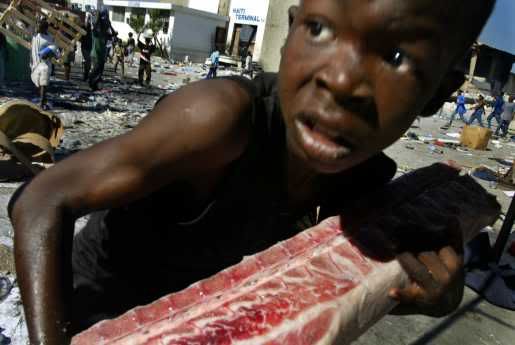 Photo:

Shaul Schwarz, Israel, Corbis


Caption:

Young boy looting, Port-au-Prince, Haiti, 27 February