We were watching
The Recruit
on TV yesterday ("Trust. Betrayal. Deception. In the C.I.A. nothing is what it seems.") and, somewhat absent-mindedly, I wandered off to the
CIA
website, their press releases page, during the commercials. There, I saw
a statement by Michael V. Kostiw
, and I read it only because "Kostiw" sounded like a Ukrainian last name.
In the statement, Mr. Kostiw was announcing his decision not to accept "an appointment as CIA's Executive Director" - "[a]s a result of recent press articles and attendant speculation."
Allegations about my past would be a distraction from the critical work the Director of Central Intelligence needs to focus on, as well as a distraction from the war on terrorism and the other national security challenges being addressed every day by the extraordinarily talented and dedicated men and women of CIA. [...] In light of my decision, the Director asked me this morning to serve as a senior adviser to him. I accepted this assignment with pride and very much look forward to serving the Director in this capacity.
That seemed intriguing enough, so I googled Mr. Kostiw's name. He indeed turned out to be of Ukrainian descent, and has been quite involved in Ukrainian affairs since the collapse of the Soviet Union. In 1996, he wrote
an article
for the Ukrainian Weekly, welcoming the adoption of the Ukrainian Constitution:
As someone with Ukrainian ancestry, I celebrate the fact that the country of my heritage has now fully joined the world of freedom-loving nations and that the people of Ukraine enjoy the right to self-determination. As an American, I am glad that the United States has a new, constitutionally legitimized partner in Eastern Europe that shares our democratic principles. Likewise, as someone intimately involved in promoting democracy's growth around the world, I also take great pride in the contributions made by U.S. organizations that are supporting Ukraine's political transformation.

Organizations such as the International Republican Institute (IRI) and other U.S. groups have provided technical and political advice and training to those pro-democratic activists struggling to restructure Ukraine' s former Communist system. Since 1993, IRI has worked at the grass-roots level with Ukrainians who, because of their commitment to improving the lives of their families and fellow countrymen, desperately seek the experience we as Americans have gained through over 200 years of practicing democracy.
In addition to being the
IRI
's
Vice-Chairman
, Mr. Kostiw is also on the
U.S.-Ukraine Foundation
's
Board of Directors
.
He is
a colonel in an Army Reserve military intelligence unit at the Pentagon and used to be Vice President of International Government Affairs at ChevronTexaco Corporation, as well as staff director of the terrorism subcommittee of the House intelligence committee.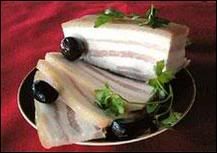 The reason Mr. Kostiw refused to accept the third-ranking position at the CIA was an Oct. 3, 2004, article in the Washington Post, by Walter Pincus, which
revealed
that "in late 1981, Kostiw was caught shoplifting a $2.13 package of bacon from a supermarket in Langley, according to two former CIA officials familiar with the incident. At the time, Kostiw had been a CIA case officer for 10 years."
A $2.13 package of bacon cost Mr. Kostiw the No. 3 CIA post. And the weekend the Washington Post broke the story, Mr. Kostiw's historical homeland, Ukraine, was
celebrating
"a nationwide
salo
festival" - the "festival of lard" - whose "centerpiece" was a 9-square-meter sandwich filled with 40 kilos of this favorite Ukrainian dish.
This is all too grotesque not to be funny.